Managing Heights
Quite the drop to the side? Making you feel a little queasy? Keep your eyes fixed waaaay ahead of you then and concentrate on the road.
Stopping and Starting
When things grind to a halt while you're riding uphill, it's best you to keep your foot on the rear brake, and your Brixton in first gear. This'll allow you to get off again with ease. If you're riding downhill, the same principles still apply. Just be aware you'll need less throttle to pull away.
Parking
Riding through the mountains, there's going to be moments when you're struck by the sheer magic of the landscape you find yourself in. You've earnt the view, so stop to take it all in from time to time. When you're parking up, the safest option is to find a spot where the ground is firm, and your Brixton can be seen from both sides of the road. Be sure the spot you've found isn't a
passing place, or else you're putting yourself and others in some real danger.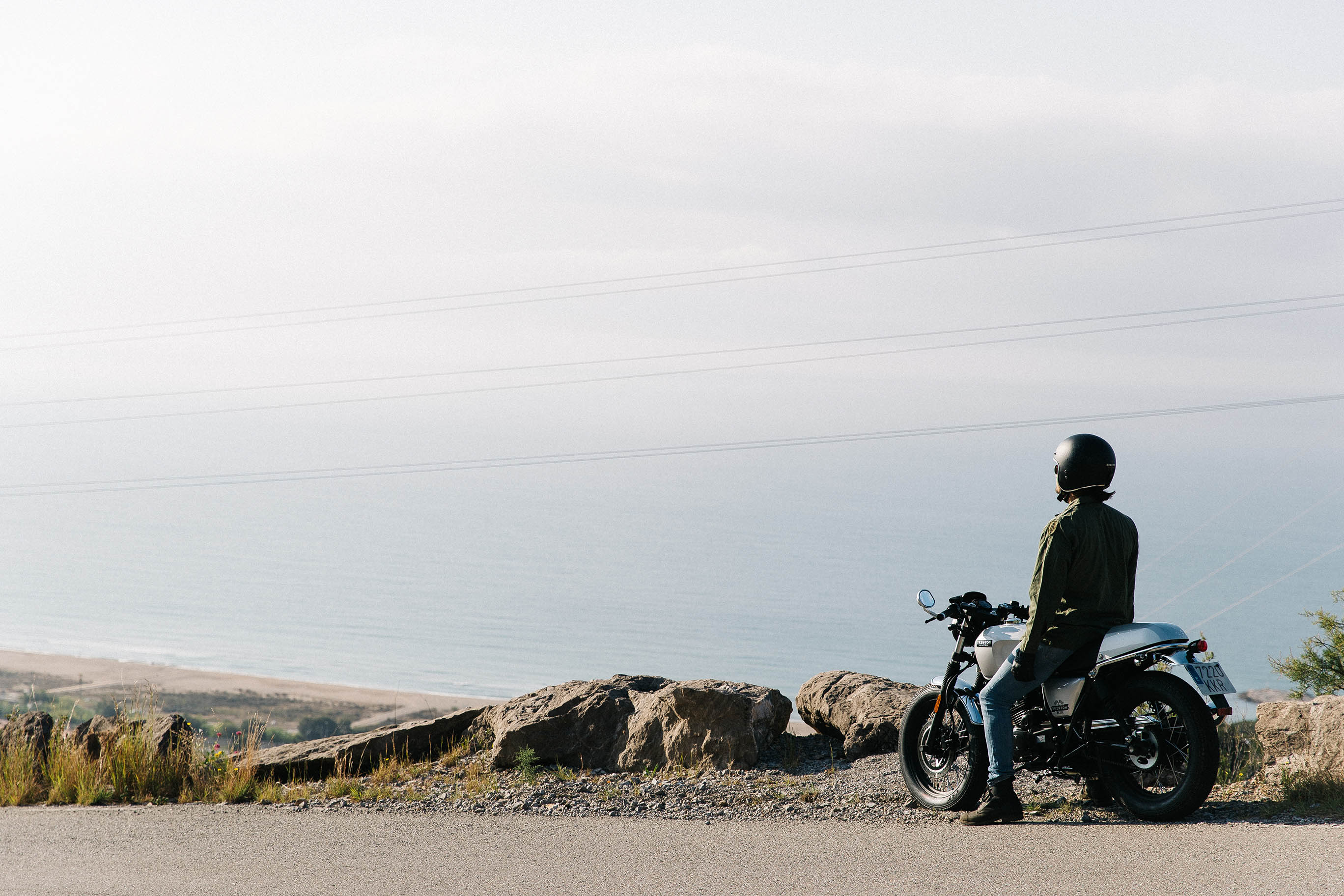 Weather Watch
Mother nature is unpredictable, and as such, the weather can turn on its head in a flash when you're riding at altitude. Make sure you're prepared for any fluctuations in temperature and weather conditions – it's always a good idea to have a pair of sunglasses handy. If you're riding through fog, take it easy and drop your speed. In freezing weather conditions, keep an eagle-eye on the road, as black ice is the last thing you want to run into. And if the weather looks bad, seriously consider whether your journey is necessary. Mountain passes are dangerous places, and this is amplified if the weather conditions aren't great.
Riding in Tunnels
Tunnels are a big feature when you're riding through mountainous landscapes. On your approach you'll be able to see how well lit they are, if it's looking pretty dark in there, reduce your speed a little, and if you're riding with sunglasses, get them off. The road inside the tunnels are sometimes wet, so when riding in freezing conditions, take care. Be on the lookout for signs
that require you to use your horn to alert other motorists of your presence.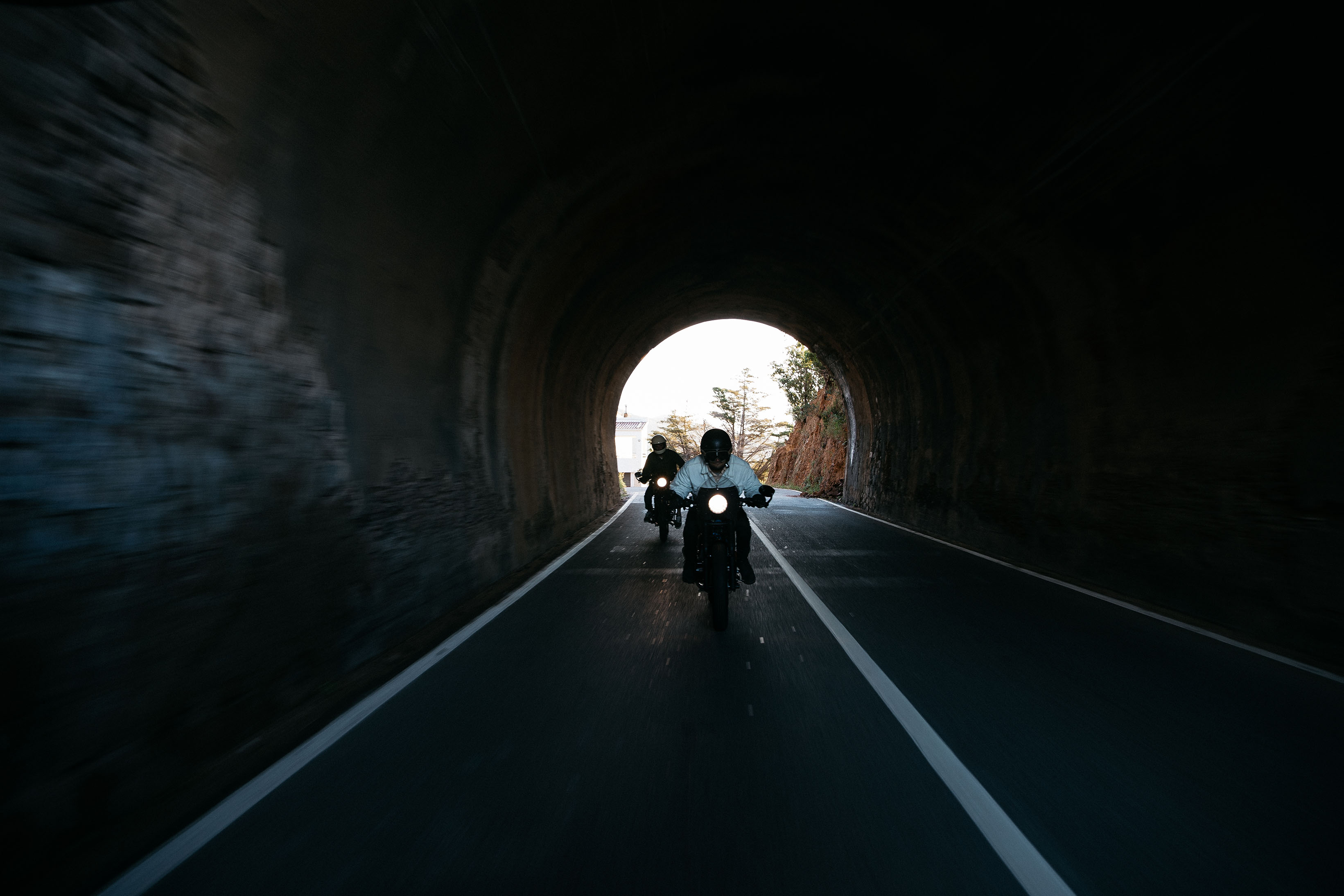 Road Etiquette
When you're new to riding sky-high, or on a certain mountainous landscape, you're going to encounter motorists who are much more familiar with the terrain. It's important that you're not tempted to try and match them. They know the road like the back of their hand, they know how to take each corner. You do not. So, maintain a speed that you're comfortable with. If another
motorist wants to pass, make it easy for them to do so. Especially on the straight stretches where this is commonplace. Keep a good eye on your mirrors so you're aware of every situation as and when it unfolds. On mountain roads, there's often no obvious rules regarding who has the right of way. And so it's up to you to judge the situation accordingly.
Distance
Riding through the winding roads of a mountainous landscape, you can be certain that you're going to cover far less distance in a day than you typically would on the open road. So, when you're looking at a map, you'll need to account for all of the inclines, hairpins, and stopping and starting that comes with riding mountainous roads. You're not likely to find a gas station, so be
sure you're loaded up on fuel before beginning your journey.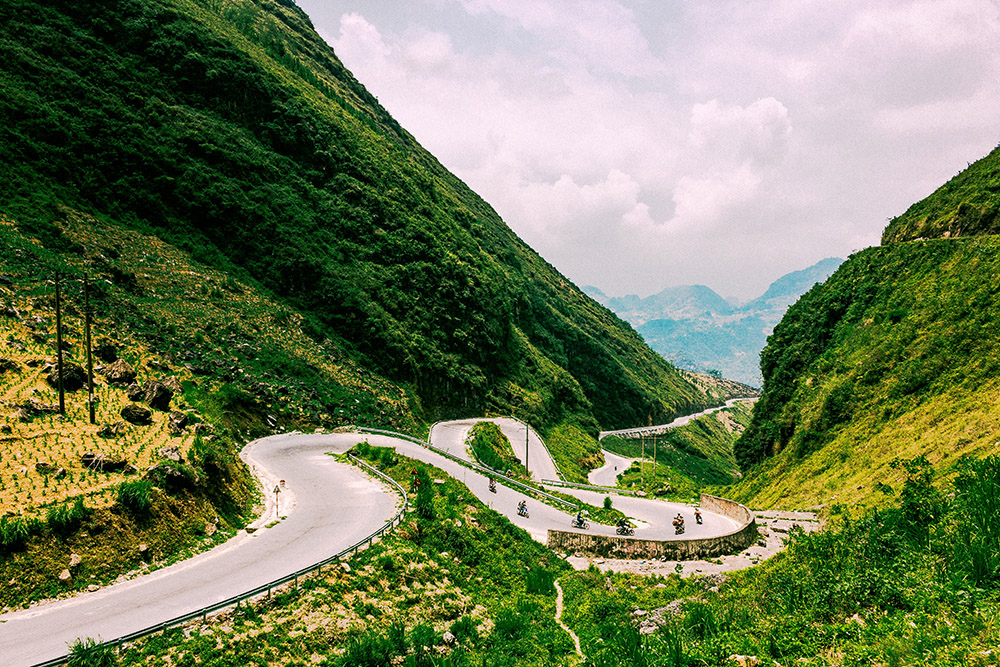 Riding through mountains isn't exactly scaling Everest, but it's definitely worthwhile going through our guide again on the morning of your trip, just to get yourself up to speed again on what you to expect. And speaking of trip, where first… Cruising the Carpathians, bombing around the Black Forest, or never feeling so alive in the Alps? Just remember to tag us on Instagram wherever you decide to ride. #BrixtonMotorcycles