The Break Fast Club is a group of women who have found each other through their shared passion for motorcycling. With our support, they also found their bike, a BX 125 X and started to customize it for the ROKKER Race organized by the Club of Newchurch on 21st and 22nd June 2019. For the Motto 2019 "RIDE YOUR MOVIE", the Break Fast Club decided to pick up "Breakfast Club at Tiffany's".
The French artist Jenna Philippe (À-moto) therefore started to paint the tank of the Brixton around that movie.  She combined different sources of inspiration to start with a concept and make a tribute to Audrey Hepburn but also Art nouveau with the Vienna Secession movement and fashion as an art itself. The silhouette of the women corresponds to the famous photo of Audrey Hepburn wearing her long black Givenchy dress. The forms and curves are a nod to the painting of Adele Bloch Bauer from Gustav Klimt in 1912.
The artist also started to paint flowers on the background. Some of the motives were used by the fashion designer Alexander McQueen, who succeeded John Galliano at the head of Givenchy in 1996. Some others were already represented on a previous motorcycle helmet from her Japanese collection.
The photos of the tank still show it "work-in-process". In a second step, the artist will add all the details on the dress, background and gold leaves. Sides of the tank will also slightly be painted with geometrical forms and curves, to highlight the line of the motorcycle itself.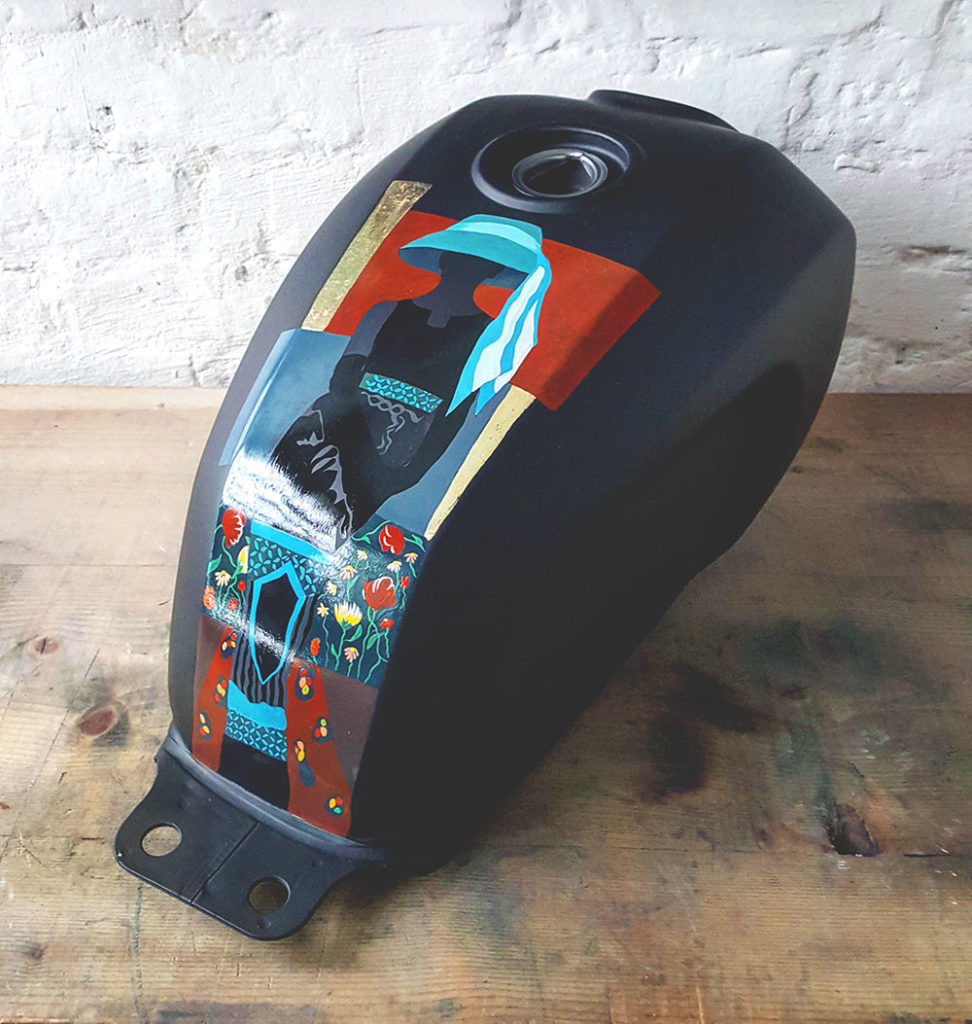 To discover the final painting and Custom-BX, follow and meet the Break Fast Club at the Club of Newchurch!
Break Fast Club : www.breakfastclub-moto.com/, @breakfastclub_moto
Jenna Philippe : www.a-moto.com, @jenna.philippe
More Information: