And here is her story:
A few years ago, my dad, Christian, mentioned the idea of a motorcycle Pan-American road trip. He had been retired for a couple of years and we were regularly spending holidays together on motorcycle road trips: the UK & Scotland, the USA, Eastern Canada… But never would I have thought, back then, that one day, we would do this together.
Fast forward to Summer 2018. I'm one year away from graduating from university and I can't shake the feeling that I'm not ready to start down the path of my professional life. So, what do I do instead? I think back to my dad's idea of a Pan-American road trip. But if we do this, I don't want to ride as passenger, as we've always done so far. I want to ride my own bike.
The search for the perfect bike:
So, the quest of the perfect motorcycle starts. I'm a short girl, there's no denying it with my 1.57m height. This already excludes several dual-sport bikes, which you would usually consider for such a journey. Add to this the fact that I don't have my motorcycle license yet. So, I have less than a year to learn to ride a bike. My dad and I explored several 125cc possibilities. But it always seemed to be the same problems: the height and the electronics. As we'll be travelling from North to South America, we want a bike which has as little electronics as possible. This will make it easier to fix it in case anything breaks down.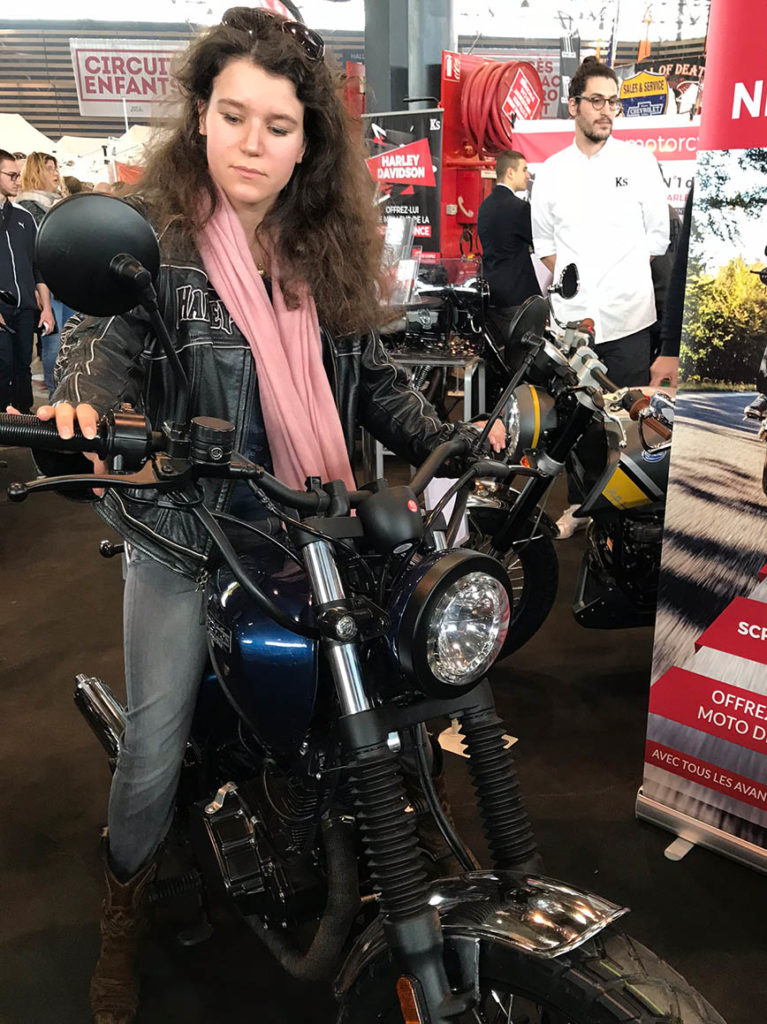 Our quest leads us to the Salon du 2 Roues in Lyon on a rainy Saturday morning. All motorcycle brands will be there. If I don't find a bike here, I don't really know where else I should look. After countless stands, I finally spy her. She's dark blue, has an edgy look to her and looks like she could be just about the right height. It's a Brixton BX 125.
But as we look around the KS Motorcycles' stand, we find another motorcycle, which could be even better for our journey. This one is pitch black, her cut and off-road tires give her this rock-n-roll kind of look. She's a rebel! She's the BX 125 X. And she'll be my road companion for this exciting trip!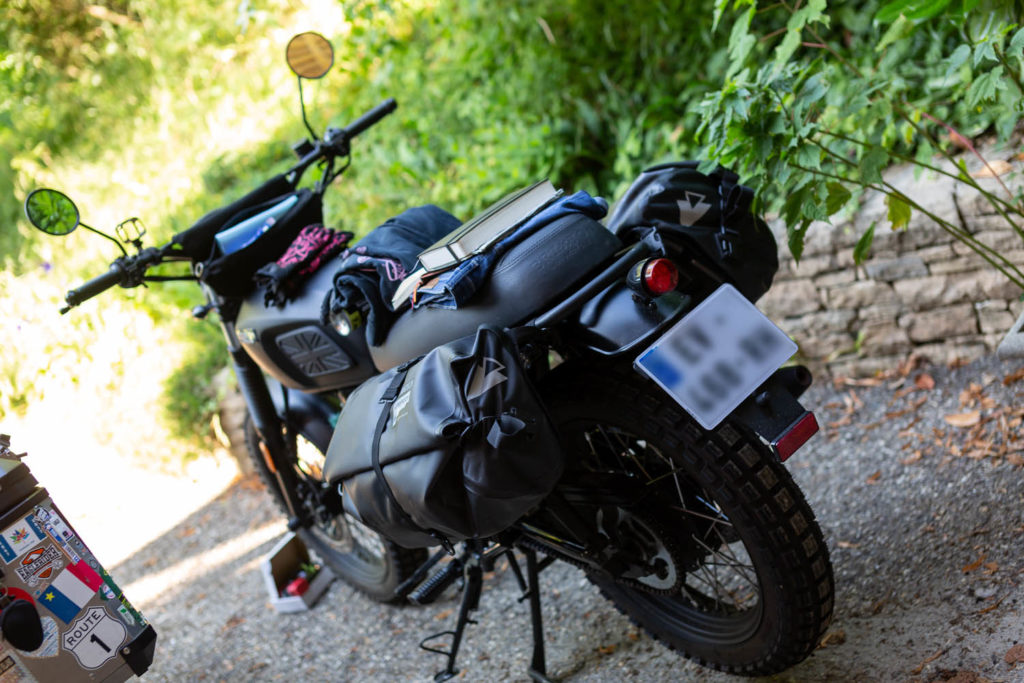 The deal is set, we've bought her. A few weeks to wait and she'll be ready to hit the road. Enough time also for me to get my driver's license. These months are also filled with planning. Which cities are worth the stop? How many km are we going to drive each day? What about insurance? What papers do we need to cross the borders? In the meantime, my Brixton has arrived. The team at KS Motorcycles in Ambérieux d'Azergues are of great help. Not only do they get my bike ready for the trip, providing me with spare parts, but they also find a way to fix the Touratech saddle bags on her.
One last thing I want for this trip is a logo. A way for people to follow us and recognise us along this incredible adventure. Thankfully, I know just the right person for that. Yann (@yannprummelart) has been studying design for some years and loves drawing cars and motorcycles. And just like that he designed the most beautiful logo I could have wished for this trip.
And before we realise it, it's time to leave! Paris and Canada, here we come!
All Episodes:
Part 1: Finding the right bike
Part 2: Canada and Jasper National Park
Part 3: The Icefields Parkway 
Part 4: The Okanagan Valley
Part 5: Vancouver and the Sea-to-Sky Highway
Part 6: US 101, Washington and Oregon
Part 7: Idaho & Montana, the Lewis & Clark Highway to Denver
Part 8: Denver
Part 9: Kansas City
Make sure to follow Joanne and her Dad on her route:
Instagram WheelsOnRoadHoles: @wheelsonroadholes/
Instagram Joanne:@jo_lmk/
Instagram: Christian, her dad:@worldwidebiker/
Website: https://wheelsonroadholes.com