The French illustrator Bishop Parigo is known for his unique design. We have talked to him to find out more about his work and especially his Brixton custom project.
1. You've got a very distinct style, Bishop. How would you describe it, and what influenced it?
I'm a big fan of youth illustration and graffiti. Drawing has been my passion since childhood, and my main inspiration comes from a deep desire to give happiness. My style seeks to transcend the monotony of the street, and the omnipresent grey of the city, to make room for the joy of creation, using shapes and colours that surprise.
2. There's a recurring theme of birds in your work…
It's true, the bird is like my emblem. From a very young age, I've loved group family photos, the kind you find at your grandparents. My birds represent family, conviviality, the power of celebrations and the joy of being together. They're like a hymn against the individualism of the selfie, celebrating friendship by having the birds hugging, united. As an artist, I use different tones and colours to reconnect with the sparkling nature of life, focusing on elements we sometimes forget in the every day.
3. What does your creative process look like?
I have two main ways of working, depending on the medium. On the computer, I take the time to adapt my work; changing the colours and layout, perfecting my drawing until I'm completely satisfied. But if I'm working by hand on canvas or walls, it's more how I'm inspired in the moment. Immediacy and dynamism take place over thinking. Even imperfections are important as the
work transforms, giving character to the creation.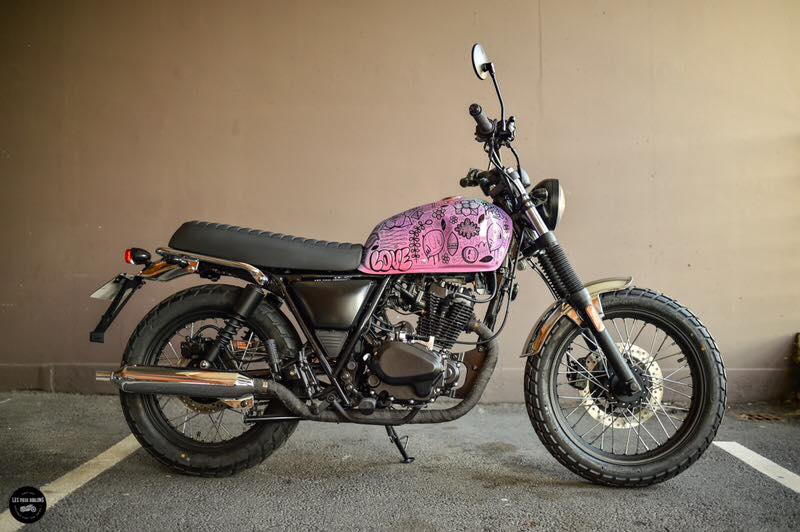 4. We were blown away by your work on a Cromwell125… What's your relationship with Les Vieux Boulons? How did this project come about?
A photographer friend of mine, working at the 'Les Vieux Boulons' dealer and garage near Paris, introduced me to the manager. From there, the idea of customising a Brixton came naturally. I had already designed a tank and a helmet, so we decided to do both again!
5. Talk us through the main idea of painting this Cromwell…
The choice was simple, either create something sober or something out of the ordinary. I decided to go with creative impact over subtlety. It's as if by integrating art, bike and helmet, they themselves become a piece of art. This allows you to have a unique motorcycle, and I find that quite interesting.
6. What is it that you like about Brixton Motorcycles?
I love the style of the motorcycle, its curves, design and shape. I was a graphic designer, and there's something about Brixton's appearance that really appeals to me. It's a bit like my own style and designs; the rounded aspects sit well alongside my work. There's also something unique and interesting in our respective styles.